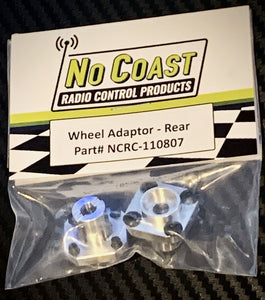 No Coast (110807) - Yokomo Mod Rear Wheel Adaptors - Alloy - 3/16"
Description:

These are manufactured by No Coast R/C Products - Part# NCRC-110807

Reproduction of the Yokomo TH-1 wheel hubs as used by Masami on his RC10 Stealth Cars. Dimension accurate to the original and threaded with M3x6mm metric threads. Compatible with Yokomo 'ZC' style wheels and 3/16" rear axles.
CNC machined from 6061-T6 aluminium, the finish is 'raw' like the originals, but capable of being media blasted, anodized or polished.
Package contains:
2x Rear Wheel Adaptors

8x M3x6mm JIS Steel Pan Head Phillips Screws
NOTE: This product is a reproduction of a vintage original part. As with the vintage originals, some level of hand fitting might be necessary depending on your application.