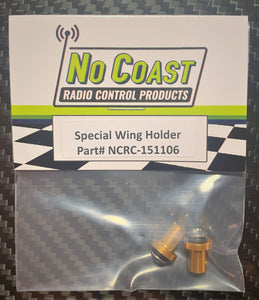 No Coast - RC10/Yokomo Wing Holder Buttons - Alloy
Description:

These are manufactured by No Coast R/C Products - Part# NCRC-151106

100% faithful reproduction of the Yokomo ZC-107H Special Wing Holder Set. Light Gold 'Gen 3' version.
This item was available from Yokomo as an aftermarket part for the Super Dog Fighter YZ-870C / YZ-10. It was also used on Masami Hirosaka's 1991 IFMAR Worlds winning Team Associated RC10 Stealth car.
CNC machined from 6061-T6 aluminium, the finish is 'Light Gold' anodized.
Package contains:
2x Light Gold Anodized Aluminium Special Wing Holders

2x M3 x 8mm Truss Head Phillips Screws

2x O-rings
NOTE: This product is a reproduction of a vintage original part. As with the vintage originals, some level of hand fitting might be necessary depending on your application.