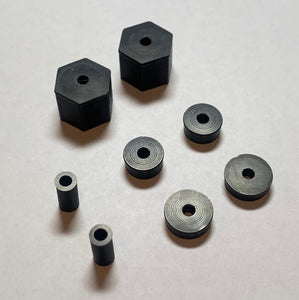 Hex Adapters - for F1 wheels
Description: Set of 4 adapters (pair of front bearing up-size tubes and pair rear hexes with inserts).
This allows you to use standard 1/10th scale F1 class wheels on front and rear. The VTA's look perfect scale however offer low grip, for racing or more stable/easier driving balance the 'normal' F1 class wheels/tyres can be used with these adapters. Rear F1 rims and front VTAs works and give a stable push balance. with slicks modern F1 wheels/slicks all round you get same rear stability but more steering. 
Front pair: these are small tubes that slide onto the 3mm axles and up-size the diameter to fit the standard 5x10mm (x4mm width) bearings used in F1 front wheels. Note the bearings are not included in this set,
Rear pair: have a 13.8mm hex outer size to fit inside the standard F1 wheel hexes. When using these the existing disc brake wheel hub assembly is removed. Additionally this set includes two different sizes of the out insert that locates and centres the wheel and the 3mm axle shaft (to suit the outer hole/shape of most F1 class rear wheels). Use the pair that best fits your wheels, ensuring there is no play/wobble once the wheel nut is tightened - if there is still play then try the pair with slightly larger diameter.
If it turns out your wheels have quite different shape/size that these inserts don't cater for - please email us at grand.prix.3d@gmail.com and we can discuss custom measurements!
Material: PC Blend